Lead Generation | Put Your Website to Work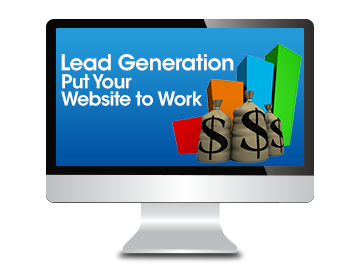 If your website is a substitute for a Yellow Pages ad or nothing more than a static online business card, it's time to put it to work.
Businesses just like yours are attracting and retaining new customers daily by following some basic web design principles. And they are doing it without ad campaigns, cold calling or other expensive and time-consuming methods. This article describes just a few of the many ways to put your website to work for you.
If you're interested in lead-generation services that will complement your online efforts, you can read about it here: http://bit.ly/1iqlUm0.
Page Design and Layout
Above all, your website should look professional in its design and layout. Keep it simple and uncluttered. Manage the website's real estate so that you make a positive first impression on visitors, capture their interest immediately and give them a reason to learn more about you.
Match Your Message to Your Customer
It starts with knowing who your ideal customer is. Then craft a "hook" designed to gain your targeted customers' attention and interest. Ensure your message includes solutions to "pain points," needs or problems that your targeted customers want resolved.
Testimonials
Testimonials and reviews serve as your proof points. Posting them on your website will go a long way toward building trust with a prospective customer.
Optimize Your Site for Search Engines
You can dramatically increase the number of visitors to your website by optimizing it for search engines. Here are a few inexpensive and effective methods:
·Use Key Words
Key word inclusion and proper placement on your site pages will increase your odds of appearing in web searches and enable you to attract more prospects.
·Create a Blog
New and interesting content attracts search engines, which helps your website get recognized. It also attracts prospective customers who have interests related to your products or services.
·Video
Web users prefer watching video to reading. It also enables you to communicate your message in a compelling manner. Another plus is that because search engines like video, you can increase your search rankings.
Give Something Away
Providing something of interest related to your product or service helps to establish a relationship, and is also a good way to collect contact information. Make sure you include these features in your site.
·Provide Value. A free eBook, a free consultation, a free newsletter or a free estimate can all provide an incentive for your prospect to provide their contact information in exchange for the item you are giving away.
·Include a Call To Action (CTA). Prominently display your CTA on web pages. Include action words like "download," or "sign up" to encourage action.
·Use Opt-In Forms  Associate your CTA with an opt-in form to collect contact information. Keep it short and sweet; you don't need to know someone's life history—and they don't want to give it to you—you just need a way to contact them.
·Follow Up  Keep in mind that people like to window shop before reaching decisions.  Once you generate interest and acquire contact information, follow up and nurture that interest. Automated emails are one of the simplest and least labor-intensive methods for timely and regular follow up. Include a CTA to keep them engaged.
·Track Leads  Analyze the data you have collected to gain additional insight into qualified leads.  For example, which freebies met with the greatest response rate? How effective were emails? Who signed up for the newsletter? By collecting this information via your website and analyzing the data, you can continually refine you conversion efforts.
Is your website a lead generating machine?
If you're looking to expand your business with the World Wide Web to generate leads, sign ups, internet sales, or build brand awareness, visit us at www.webdesignanddevelopment.com. We offer a complete Internet marketing solution including Google AdWords, website design, graphic design, hosting and much more. Join the online revolution today with a

FREE QUOTE

for your online marketing needs at www.webdesignanddevelopment.com.