Customer Focus for a Better Business Website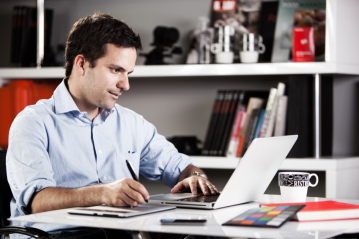 When was the last time you assessed the effectiveness of your website? Is it generating new customer leads? Contributing significantly to your sales? If not, you're not effectively leveraging one of your most important marketing business channels.
The online marketing world is a dynamic environment. New technologies continually add to Internet marketing capabilities.User expectations and preferences in particular change quickly over time. Taking some time to review your website with a critical eye may prove to be an extremely worthwhile practice.
If you're reluctant about redesigning your website, read this article; it might change your mind: http://bit.ly/1yH75ny
Here are some website design factors to consider:
· User Experience The term "user friendly" has been around for a long time, but not everyone pays enough attention to the user experience. Internet marketing professionals, realizing the importance of the user experience are constantly researching the subject and implementing ways to optimize websites to attract, engage and involve users in a way that motivates conversions from browser to customer. If your site is designed with the user in mind, it will be a much more effective marketing tool. Users visit your site with an objective in mind. They are interested in gathering information, purchasing a product or engaging your services. So make sure you incorporate these website design principles.
· Loading Speed. Many times those cool looking flash animations or automatically loading videos are doing more harm than good. Typically, if your home page takes more than 1-2 seconds to load, the visitor will bail and find a better site. A slowly loading page will also negatively impact your search engine scores.
· Content and Organizational Hierarchy. As mentioned above, people who visit your site do so for a specific purpose. Typically, they are more interested in buying something than they are in learning about your board of directors. Think about what you are selling and what they are buying and prioritize your design and content accordingly.
· Navigation. Make it easy for users to find the information they are seeking without the necessity to click on multiple links. Don't interrupt their browsing behavior with annoying pop up ads and surveys. Users find these devices annoying and you are slowing their path to a buying decision.
· Don't Forget Mobile Devices. More people are accessing the Internet every day with smart phones and tablets. Typically, they are on the go and in a hurry. If your website design is a hassle to use on a mobile device, you are missing a huge and growing audience.
· Update Content. Don't let your content stagnate. Search engines like fresh content and don't rank sites highly if they don't regularly refresh their content. Include content that relates to your offering, but is also of interest to your prospective customer. If your content is nothing but sell, sell, sell driven, you're likely to turn a potential customer off. Regular blogs are a good way to keep your content up to date.
· Offer a Freebie or a Discount. If your visitors consider an offer valuable, it will increase the likelihood that they will offer some contact information in exchange. This is a simple and inexpensive way of building a valuable leads database for follow up email campaigns.
· Keep Your Registration Forms Simple. Don't ask for too much information when people sign up. Most won't take the time to complete a lengthy form. You can always follow up and learn more about a prospect through other means.
· Make it Interactive. Encourage interactivity and involvement by asking for comments on your blogs. Customers feel better about your brand if you connect and build a relationship.
· Solicit Feedback. Ask people to "rate this page" with a simple mouse click; the input might lead to needed improvements. A customer survey, when properly implemented in an unobtrusive way can provide valuable insight into buyer motivations.
These are just a few of the ways you can improve your website and make it a more important part of your marketing mix. Internet marketing pros can offer you many more cost-effective ideas that will really put your website to work for you and help you to grow your business.
If you're looking to expand your business with the World Wide Web to generate leads, sign ups, Internet sales, or build brand awareness, visit us at www.webdesignanddevelopment.com.
We offer a complete Internet marketing solution including search and display, website design, graphic design, hosting and much more. Join the online revolution today with a FREE QUOTE for your online marketing needs at www.webdesignanddevelopment.com.